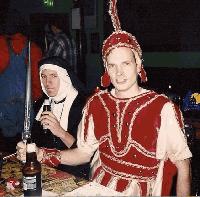 User
Reviews 1
Approval 100%
Soundoffs 90
News Articles 12
Band Edits + Tags 135
Album Edits 43
Album Ratings 1216
Objectivity 58%
Last Active 11-26-18 6:06 am
Joined 01-02-16
Forum Posts
0
Review Comments 4,007
Albums That Need a Press to Vinyl

Most of the time, our favorite albums get a press to vinyl. Whether it's a classic originally pressed in the 70's, and you're desperately searching for that mint original. Or maybe a modern day band who follows in step with the vinyl trend with several different color variations. But there will albums be those of our favorites that seem to elude the wax. Whether the band is too under developed to have been able to be able to do a complete vinyl pressing, or the world just seems to hate you. Anyways, here are five of my favorite records that haven't (to my knowledge) been pressed to vinyl. Also decided last second to say my color(s) of choice for said record. As always, no particular order.
1
Kayo Dot


Choirs of the Eye





It really stuns me that such a band like Kayo Dot wouldn't release what could be easily argued as their magnum opus hasn't been pressed to vinyl yet. It'd be just stunning to be able to put this on the table, dim the lights, and let songs like Manifold Curiosity just take you away. Yes, I do realize how much of an ass I sound like. I would love to see this in an Oxblood/Gray split.

2
The Newfound Interest in Connecticut


Tell Me About the Long Dark Path Home





Now, this I understand. Totally unknown, single album emo band, not surprised there's no pressing here. But that doesn't make it any less suckish. The atmosphere on this record would translate in a stunning fashion to vinyl. I'm thinking a nice Turquoise would well.

3
The Pax Cecilia


Blessed Are The Bonds





Again, somewhat understandable, but this is one of my all time favorite albums, so I'm desperately craving a vinyl pressing on this one. The dynamic sound on the album would be represented well in the vinyl format, and I could only imagine the gatefold artwork. Hnnnggg. I think a murky, marbled dark green would be perfect.

4
The Brave Little Abacus


Just Got Back from the Discomfort





As with all of the albums listed, I've checked time and time again to see if it was ever pressed to vinyl, to no avail. But most have at least been released on CD. Not this guy. Fuck you and all you stand for TBLA. I love you so much. I think a smoky white/clear mix with some hints of pink mixed in would be just gucci.

5
The North Atlantic


Wires In The Walls





Another band who didn't get the attention to warrant a pressing to vinyl. , Plus, they also existed in that gray area between when records became cool again and when it was still standard practice to press a record. But man, this is one hell of an album. The album artwork leads me to believe that a full record would yield further interesting results on the back cover, lyric sheet, inner protective sleeve, and possibly even gatefold. The bombastic climaxes would be thick and hearty, and the softer sections would sound delicate, but strong. Translucent red with a white spot in the middle (think an inverted bull's eye).

6
Eyedea and Abilities


By the Throat





Honorable mention to this and First Born. Both have been pressed to vinyl, but are always in the $80+ range, which is just not practical for me. Rhymesayers really needs to repress these. So that's my list. What are some of your favorite records that never got a pressing to vinyl? What color (if you care) would you want?