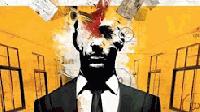 User
Reviews 2
Approval 55%
Soundoffs 90
Album Ratings 1610
Objectivity 84%
Last Active 02-27-20 3:34 pm
Joined 11-17-15
Forum Posts
6
Review Comments 1,535
Blazin's Top 40 Songs of 2018
40
Black Thought


Streams of Thought, Vol. 1



"Dostoyevsky":

Black Thought, leader of the legendary Roots, hasn't seemed to wane in quality with his two new EP's released this year. Volume 1 highlight "Dostoyevsky" perfectly represents Black Thought's skills as a rapper and the great production by 9th Wonder and Khrysis. "Dostoyevsky" is mainly about how Black Thought sees political struggle and power through the writing of Russian philosopher Fyodor Dostoyevsky. The beat's great with cool-sounding guitars and plenty of surf rock-reminiscent drum rolls. Rapsody brings a great guest verse and this song isn't running short on memorable bars and references.

Best Part: Probably Rapsody's J. Dilla reference
39
Spanish Love Songs


Schmaltz



"Sequels, Remakes, and Adaptations":

Part of an amazing first impression if I've ever heard one. If "Nuevo" molded the lyrical shape for the rest of Schmaltz, "Sequels, Remakes, and Adaptations" did so for the instrumental songwriting. Case in point, the opening guitar riff has to be the most memorable punk rock guitar lick since Titus Andronicus's "A More Perfect Union" and that was a full eight years ago. The vocalist introduces his visceral and emotional voice here as well, bringing new life to a track that has already been bringing new life to the whole punk rock scene.

Best Part: The opening riff
38
GoGo Penguin


A Humdrum Star



"Reactor":

Imagine if GoGo Penguin took the consistency of an already great track "Transient State" and applied a distinct mood within it and its atmosphere. Oh wait, that's "Reactor". The piano showcases its talents at the center of attention here. The main melody is wonderfully dark and supportive of the low-register notes that are sprawled throughout the piano solo's act. Drummer Rob Turner never fails to impress, and this track isn't an exception. This song really reminds me of James Holden's "Thunder Moon Gathering" from last year in many ways. Both are the same genre that heavily relies on a singular piano melody to have other instruments revolve around it.

Best Part: The ending
37
Mount Eerie


Now Only



"Earth":

In an album full of titular themes, concepts, and workarounds, this song was the most likable and artistically clever of them all. Similarly to "Distortion" from earlier in Now Only, the electric guitar and drum playing is dirty, matched up with Phil Elvrum's theme. Today's theme is the ground, and here he compares his feelings about his wife's death a year later to his recent physical interactions with her dead body. To join the relationship is what's arguably the most melancholic guitar progression on the entire record. Also jumping in is an eerie driving-on-the-road sound with the depressing implication of what's going to triumph over you as you're in the Earth. It's how Phil Elvrum has been with this existential feeling ever since the death of his wife.

Best Part: "I can hear Wolves in the Throne Room singing: 'I will lay down my bones among the rocks and roots.'"
36
Basalte


Vertige



"Eclat de Verre":

What is up with black metal closers this year and outstanding quality? I continue to be fazed by the staggering amount of awesome black metal encores. Not even three minutes into the song appears a desert rock influenced introduction and horn appearances. This displays the diversity of the monstrous fifteen-minute song while performing all so sufficiently. the halfway point of the song adds a raw yet droned and spacey feeling to the guitars and it's all amazing. A neat buildup segment follows that up with convincing guitar work. It then takes a sudden, kinda loud turn into a great guitar performance backed up by what's apparently called an "inverse skank beat".

Best Part: The entire second half.
35
Birds in Row


We Already Lost The World



"Morning":

The heroes of a beyond disappointing July not only produced a fantastic album but a memorable penultimate to add. "Morning" starts off with a uniquely groovy beat often putting the bass in front of the guitar (Hell yeah!). Soon the emotionally charged vocals kick in introducing themes of self-doubt and inner conflict. To me, the most impressive aspect of this song is its ability to control intensity in an intense track. For example, after the first minute and a half fronts the track, the song only increases in ferocity until its final moments. This is even after a couple of top-notch breakdowns during the bridge. It's quite the efficient way to make one blown away by the ending.

Best Part: "I'm burning in a jail of doubts, It's not so easy to hiiiiiiiiiiide"
34
Parquet Courts


Wide Awake



"Total Football":

Maybe Parquet Courts didn't think of themselves this way, but "Total Football" puts itself in an eerily similar position to "Come Together" by The Beatles. Both open up the album and focus on how we are better as a group rather than as individuals. Most coincidental of all, they drop a Beatles reference in the song! Shocking thing is, this song is about as good as the classic. Moody, fiesty, and not one to waste time, this is modern rebel punk at its very finest. There's tons to love about it. The bass diddling during the verses, the weird guitar picking and synth creeks during the chorus, and the vocalist's overall attitude give this song more than enough life to be a highlight on an honestly messy album.

Best Part: After the second chorus when the singer's voice becomes more intense.
33
Toby Driver


They Are the Shield



"Scaffold of Digital Snow":

Toby Driver's solo efforts have gotten mixed reactions from me. He seems to be a better band leader than he is a single songwriter, but that's not to say he hasn't had some great work in that stint. This year had We Are the Shield (perhaps the most baffling album name and cover this year) give Sputnik some Toby hype again, but just this song is really where everything's at for me. I feel much of the album heavily strived to be this track and for once it did succeed to that level. The minimalistic drum playing, relaxing synth lines, and serene violin playing serve wonderful accomplices to the female vocalist's soft and smooth delivery.

Best Part: The "And I died" chorus
32
Locktender


Friedrich



"The Monk by the Sea":

"The Monk by the Sea" was the first truly great song I heard in 2018. This heartbreakingly beautiful and superbly produced track speaks that language and perspective in a way that few other artists can. As the title suggests, this is literally about a monk next to the sea. What the title hides from you on first viewing is that the song's story is one of self-deception and remorse. The monk asks for the ocean to take his body in a death with dignity after a life full of corruption and destruction. A lot of cold, oceanic words and phrases are used to tell this story like "Tide in, tide out", "drain", "spill", "crystallize", and "frozen". The aquatic production of the guitar playing and the vocal's intensity make for a powerful ride.

Best Part: The tempo contrast in the opening and closing verses.
31
Between the Buried and Me


Automata I



"Yellow Eyes":

"Yellow Eyes" might be BtBaM's best song since "Swim to the Moon". Especially with the organ-ish keyboards throughout the lighter sections, it sounds like BtBaM's metalcore mix style incorporated with 90's Dream Theater progressions. Somehow this makes everything more of a feat, between the well-done clean vocal sections, the aforementioned organ playing, and the drumssss. Speaking of drumming, this is a shining example of a year-end contender for best drumming performances led by none other than Blake Richardson. The flute-sprinkled calm section is pretty cool because it really reminds me of some wintery black metal stuff I didn't expect BtBaM to pull off so well. All this oddly makes for one of my most played workout songs. It's like every time I repeat this song, I find something else to like about it.

Best Part: The drum break about 6 minutes in.
30
Iceage


Beyondless



"Under the Sun":

If there's anything that feels like a triumph from Beyondless, it's "Under the Sun". This song starts off unexpectedly slow and patient, marking the protagonist's "heights of the low" and "wallow in the mire". The fumbly drumming and on-singer's-command guitar work add a nice distinction to the first parts of the song. I find a lot of folk influence in the production and instrumentals, too, which lets the outta-nowhere string sections later in the track make sense considering it's not interrupting a pure post-punk track anyways. When that string section does come, though, my God isn't it beautiful.

Best Part: The ending.
29
Hozier


Nina Cried Power



"Shrike":

Congratulations, Hozier! You made what's arguably the second best mainstream song of the year. Not exactly the biggest feat considering I didn't have much intake of mainstream music this year, but "Shrike" is exceptional even past that description. This song somehow makes clap percussion, synthetic vocal echoes, and a poppy acoustic guitar riff all work in this beauty of a ballad. It's mainstream "indie" folk at its best and a testament to the people that say music like this is always "whiny" or "fake".

Best Part: Hozier's peeping Irish accent throughout the verses. So, so good.
28
Rivers of Nihil


Where Owls Know My Name



"Subtle Change (Including the Forest of Transition and Dissatisfaction Dance)":

Many of the reasons I enjoy this song so much can also apply to "Yellow Eyes". Great alternating vocals, powerful keyboard overload, and nice genre infusions (for this one, it's the sax solo). What edges "Subtle Change" over that track is how Rivers of Nihil are able to embrace their epicness a little more. It's a more fun listen this way, which, when the ending flute passage came in, I was like, "Of course you did that, ya gracious bastards." That's even after an amazing guitar solo and a chorus reprise. However, this embrace doesn't get more apparent than the blast beat-riddled moment smack in the middle of the track. It's a glorious moment that even overpowers the character in the lyrics.

Best Part: Right after the second chorus.
27
Monobody


Raytracing



"Ilha Verde":

If there was any genre that I probably should get more into, it's jazz fusion. I get that many bands in that genre wank into eternity (Monobody isn't exactly free of this criticism either), but the unique, complex compositions and successful atmosphere building never cease to interest me. "Ilha Verde", the opener off Monobody's new record Raytracing, represents the very best of these compositions. Monobody mix new sounds with familiar techniques as the opening sounds are gorgeous ambient passages. These passages would come back later in the middle of the track to lead into a particularly jazzy section. Not to mention that the fusion sections can rock out and let the electric guitars take lead, too.

Best Part: The opening.
26
Ancestors


Suspended in Reflections



"The Warm Glow":

Ancestors is undoubtedly one of the most unique metal groups out there. Often classified as "metal Pink Floyd", this band has the capability to bring its epicness to special heights, even if it floundered a bit on the way like it did on Suspended in Reflections. "The Warm Glow", however, serves as a grand ending to the ride with a powerful first half. The vocals wail over the power chords and waves of crashes to represent the familiar Ancestors. Yet it was the guitar solo that emphasized "The Warm Glow" the epic finale the band had been building up to all along. The melancholic second half fronts somewhat mournful vocals and haunting piano chords. It's eventually sorrowful guitar riffs close the album on an emotional note, finally letting Ancestors reach the potential I thought they had in them.

Best Part: The guitar solo
25
IDLES


Joy as an Act of Resistance



"June":

In June 2017, IDLES frontman Joe Talbot had a stillborn daughter named Agatha. Considering that "June" is written around that tragedy, Talbot didn't think he could manage to get this song on the album. But he did anyway and it's a perfect example of a work that's simple but emotionally effective. Interestingly enough, not much is going on instrumentally. Much of the song acts as a buildup for the next part and none of the instruments ever go offbeat except for the whistles in the power chord breakdown. All this means that you have to focus on the lyrics, which are honestly not that complex either. All the lines here refer to Talbot thinking about what he would've been doing as a newborn's father (kissing the crying baby, confirming himself as a father, putting on the baby's shoes) when all he can do now is "Pretend, amend, amend, amend…"

Best Part: The "whistle solo"
24
Dirge (FR)


Lost Empyrean



"Algid Troy":

I went on a post metal spree very recently because the enjoyment potential of bands like ISIS, Neurosis, Cult of Luna, Kayo Dot, and others felt really promising. French band Dirge was not part of that run as their new record Lost Empyrean unfortunately didn't impress me enough to go back and check their other work. However, I won't deny the greatness of "Algid Troy", a song that echoes the very best of well-known post metal bands like Cult of Luna. On this track, the power chords, ghost note-filled tom playing, and guitar melodies are all written beautifully and epically, though this is just the break from other parts of the song. Then the second half comes and everything somehow gets better. The band manages to make a rhythmic spoken word section work with the guitar chugging at headbanging intervals. And just when you think it'll slow down, the synths amp up and the toms start flying away. Just awesome.

Best Part: When the extra guitar comes in at the 7-minute mark.
23
Night Verses


From the Gallery of Sleep



"Phoenix IV: Levitation":

I wanted to love Night Verses so much. I wanted to drown happily in its complexity and ambient soundscapes, but I couldn't. It all felt too meaningless. If nothing else, Night Verses produced some great bangers along way, one of which would actually be the album's epic, "Phoenix IV: Levitation". Time consuming and sprawling, the polyrhythms in this track will be having you do equations in no time, but it's all written with so much feeling and grit. The first two minutes of this monster is pretty much one of the best instrumental mindfucks you've received all year. It calms down after a while as it smartly writes the instruments around the keyboard melody carrying that section. Then comes the guitar solo and all the instruments blaze in glory again until the final chorus ends where were meet with… an acoustic guitar melody? And it's absolutely gorgeous? Just carry me to the breakdown.

Best Part: That beat from 1:44 to 1:56.
22
Sectioned (Metalcore)


Annihilated



"Through the Trees":

Annihilated was the craziest chaoscore record of 2018. Not the best, but definitely the craziest. The bookends were the best of that kind, but album closer "Through the Trees" has an ominously beautiful touch to the madness. The depressing lyrics in the first three minutes just keep spiraling deeper and deeper into madness. That is, until the last, dying screeches of the last remaining, "Shimmmerrriiiiing Liiiiiiiiiiiiight!!!!!" before the lyrics's protagonist permanently battles himself. Then we get to that beautifully haunting piano passages with the extra wind swirls and guitar sirens complimenting the death of that light through the trees. After 37 minutes of emotional drainage and another 3's worth of beatdowns, it's about damn time to relax.

Best Part: When the guitar enters on the piano chords at the end.
21
The Armed


Only Love



"Middle Homes":

I thought that "Luxury Homes" was gonna be the highlight of Only Love. It's indeed awesome with a great, chaotic hook and a funky verse beat. As I was going through my album interests, though, there was something about "Middle Homes" that hypnotized me into it. Turns out that "thing" was everything. Nothing could have possibly make it any better than producer Kurt Ballou. The dude's a metal legend at this point, and here he exemplifies that skill even further. He takes the electronic, kind post-punk amp sound and adds some retro-ized artsy fuzz to it. It makes the guitars sound so heavenly. Even the droned, baritone vocals from the frontman sing their way through some familiar self-doubt, "I'm not sure where I've landed". While the vocalists' performances are really good here on their own accord, the vocal effects (probably added by Ballou) add so much more uniqueness to the grimy bass and guitar playing.

Best Part: The guitar riff during chorus and the ending.
20
Jon Hopkins


Singularity



"Echo Dissolve":

Singularity was a difficult album to push through. Yeah, it's artsy and creative at times but I feel like its classical/IDM/ambient crossover thing wasn't majorly doing anything for me, especially on some songs that were just way too long for their own good. "Echo Dissolve" actually serves as a thickened interlude for the following "Luminous Beings". However, this interlude is shockingly more amazing than anything else on Singularity. The song length was actually a fantastic decision. It feels fully fleshed out, yet it's just trimmed enough not to drag. Every single noise associated with this makes a huge difference. The splashes add a natural, flickered life to the background and even the low, static humming adds more to that purpose. However, nothing here matters more than the how the lead piano sounds and, unsurprisingly, it sounds like heaven.

Best Part: That white noise flare around the 2-minute mark.
19
SUMAC


Love In Shadow



"Attis' Blade":

This is the second best Isis song ever made behind "Garden of Light". Okay, okay, put your pitchforks down, I didn't really call this an Isis song because, well, it's not. SUMAC requires even more patience to enjoy than Isis and goes in a little artsier of a compositional direction. Though I will happily confirm it is Aaron Turner's second best output ever. The guitars are grimy, the bass is satisfyingly prominent, and Aaron Turner has hardly ever sounded so nasty on vocals. That's not counting Nick Yacyshyn's masterful performance on drums, where at first he has the skills of a progressive metal giant but then proceeds to go on a jazzy tirade with a beyond chaotic solo. Much of the second half is a sludge metal slow burn with some memorable guitar licks along the way.

Best Part: "And from the withered teat was suckled / Poison nectar" (lol)
18
low


Double Negative



"Dancing and Fire":

It's sad to know that "Dancing and Fire" will always be overshadowed by the fairly popular "Dancing and Blood". It's definitely not a bad song; it's electronic and ambient undertones make for a smooth listen even at six-and-a-half minutes. However, "Dancing and Fire" is where the true beauty lies. Until lately, I could go on about how electric guitar strumming and the extra synths in the chorus make for an instrumental tearjerker, but these lyrics have been catching up to me. There's only eight lines to the entire thing, so interpretations will have to made with the true meaning, but they tell enough about the subject at hand to let the listener relate to the protagonist at hand. It's about losing someone whether through a break-up or death while realizing that this loss isn't the end-all-be-all for the protagonist but it's now an incident branded in his/her mind forever.

Best Part: "It's more let it out than let it go/It's not the end, it's just the end of hope"
17
Spurv


Myra



"Den Gamles Stemme Brister"

A couple people have compared this song to "Sleep" by Godspeed You! Black Emperor and I can definitely see why. "Sleep"'s second half sounds melodically similar and it has that same emphasis on string inclusion that Spurv had put into "Den Gamles Stemme Brister". However, let me give you a little hot take: this masterpiece is better than "Sleep". On Myra, Spurv expertly created mournful atmospheres with a little bit of everything post rock had to offer without the obnoxiousness of it all. Sorrowful guitar melodies that eventually wail in the back half of the track front a song supported by jazzy, smooth grooves and hints of twinkling keyboards. It's the very best of an album that already had more than enough to offer on its own.

Best Part: The fuzzed-out guitar appearance at the 6-minute mark.
16
Atrium Carceri, Cities Last Broadcast, God Body Disconnect


Miles to Midnight



"The Sleep Ensemble":

Although I can't really say too much about "The Sleep Ensemble" other than "atmosphere, atmosphere, ATMOSPHERE!", that be fairly unjust towards the...how many members were in this collaboration? Anyways, this song is so easy to get lost in and introduced notes and effects throughout sound like noises that actually surround your current environment. The background voices and keyboards do a movie soundtrack's job of putting you inside a relatively abandoned setting. Sure, it's all a little spooky, maybe a little too much so for some, but it's a track that captivates your attention every time you press play.

Best Part: N/A (It's kinda hard to pick a best part when the entire thing's an ambient piece…)
15
Ben Howard


Noonday Dream



"A Boat to an Island on the Wall":

What an odd, yet clever song title to describe an indie folk song about a rocky relationship. Here, Howard describes an impossible relationship with an impossible representation. Howard's monotone voice somehow sounds genuinely concerned with the protagonist's costly mistakes in his relationship as guilt and vulnerability continue to fester. That's a great feat to pull off as a songwriter and all that's done over pretty acoustic and electric guitar fiddling with uniquely great production. Despite being intensified in the second half with a spacey guitar solo, the 7-minute long track is admittedly a patient piece with various ambient textures. But it's all worth one of the best folk songs of the year.

Best Part: The guitar outro
14
Toundra


Vortex



"Cruce Oeste":

"Cruce Oeste" is one of those rare, lucky occasions where you get a masterclass of a bold song from a relatively safe and underwhelming album. It first starts with that crunchy guitar production. The first ten seconds of the intro already has some top-tier, Russian Circles type sound to it, and it's been a while since I've heard anyone who's done that post-rock/tinge of metal mixture so well. Each segment flows into one another so smoothly, unlike a lot of the featured album actually. After enough time, the song takes off in an awesome, intense fit with fantastic guitar playing. I'm so glad I've come across that rare gem from a genre that I have quite a soft spot for. I'll use it anywhere, but I see a voyage on a violent ocean paired up with this song. Just listen to the opening riff, you'll feel it.

Best Part: Wherever that opening riff pops up.
13
The Body


I have fought against it, But I can't any longer



"Nothing Stirs":

Lingua Ignota... That's a name that slipped under my radar last year. Perhaps it was the peculiarly unsettling album cover of ALL BITCHES DIE that kept me at a distance, but maybe not anymore after her passionate showcase of talent on "Nothing Stirs". An initially frail voice in desperation suddenly gets more angry and insane. After the climax fizzles out, she ends her tirade on a fittingly disgusting note. Despite how much I applaud Kristin Hayter's performance on this track, I can't deny the masterful atmosphere and mood construction by the instrumentals and production. The introduction sounds like a haunting lo-fi hip-hop beat with bass boosts and rattling hi-hats. Chip King's rooster vocals give you an idea of the utter destruction that's about to come. During Kristin Hayter's part, a string section appears near her "March on" chant, and it's glorious.

Best Part: The beatdown after the "March on"'s.
12
Yves Tumor


Safe in the Hands of Love



"Lifetime":

The emotional resonance a piece of media can have with someone is sometimes extreme enough to separate itself from its other critiqued qualities. This sentiment is even true for critics of said media. Enter Yves Tumor and "Lifetime", an outlet with an emotional impact that I, often a critic, hold quite dearly. You see, at the time this song came out, I was about a month and a half into my first semester of college. I wasn't homesick, but that didn't mean I didn't miss by brother or that I didn't felt urged to do well for my family. As the industrial-ish beat and keyboards go on, at times I felt the overexaggeration of "I cannot breathe I swear; it's torture". However, it was the next part that hit me the most, "I miss the days out in Biscayne/I miss my brothers/Give me three more weeks to sort this out/I swear I'll prosper". I swear it's the perfect college hipster anthem.

Best Part: "Give me three more weeks to sort this out / I swear I'll prosper"
11
Imperial Triumphant


Vile Luxury



"Cosmopolis":

Imperial Triumphant's Vile Luxury was a record like many other avant-garde projects I've tried out over the years, some of it just doesn't work and other attempts hit all the right spots. In the case of "Cosmopolis", it itched a spot I never knew I had: jazz sent straight to hell. I love almost everything about this song. I love how everything sounds like it was record in a 90's black metal "studio". I love the bebop section towards the ending. I love the ending beatdown itself. Then there's Kenny Grohowski, leagues above many other drummers in one of the craziest performances I've ever heard. Ugly, fast, and chaotic beyond belief, don't miss out on this gem.

Best Part: The ending.
10
Deafheaven


Ordinary Corrupt Human Love



"Glint":

As every Deafheaven fan and their mom knows by now, what made Deafheaven so great in Sunbather was the band's ability to mix cleanly produced black metal with other rock motifs. These motifs include but are not limited to: classic rock, post rock, and alternative rock themes. Since Sunbather, Deafheaven couldn't quite seem to master this ability again, but "Glint" was here to save the day on this album. For the first two-and-a-half minutes or so is a beautiful post rock piece that somehow seems perfectly in place for the rest of the black metal cavalcade to continue. On that note, the black metal parts made the band seem like they never left the Sunbather age. In the second half arrives the classic, jam-like rock part that no one expected to be as good as it was. I've heard people call these moments too "cheesy" and what not, but Deafheaven successfully include the fun part of metal songwriting that so many others fail to do.

Best Part: At 8:43 when the vocals come back in.
9
Brandi Carlile


By the Way, I Forgive You



"The Joke":

My jaw literally dropped with my first listen of this. No wonder she made this the lead single of her new album. No wonder she's nabbed an insane amount of Grammy nominations with just this song. No wonder Barack Obama himself called this one of his favorite singles released last year. Brandi Carlile outclassed so many singer-songwriter's voices with her performance on this song. She flawlessly masters the calm, confident poses of the verses and I don't even think I need to explain the sheer power of the chorus. I adore the switch in the instrumental focus between the two verses from piano only to primarily guitar. I can't help but love the swelling organ in the second half, either. I also find the lyrics fantastic. While somewhat politically charged, "The Joke" is told as a story of inspiration and overcoming undeserved disadvantages and circumstances.

Best Part: The final vocal notes on the last chorus.
8
Hop Along


Bark Your Head Off, Dog



"Prior Things":

I didn't think there was any way the album was gonna hit higher than "Look of Love", especially considering the quality had been hitting a serious stride since "One That Suits Me". Then that quirky string section opens up. Vocally, I feel like Hop Along's odd pairing of the acoustic guitar with the string section makes the awkwardly recorded vocals even more aesthetically pleasing. Even with those pieces intact, I love the periodically flashy basswork and electric guitar flourishes. The lyrical songwriting is pretty clever, too, specifically the line about this, "When you create those silences? Well never mind, I don't want to see / I know it's got nothing to do with me", which is relatable social stuff that I constantly put up with. I admire the twinkly keyboard dash on the last reprise of the chorus because it's a text painting for independence from the guilt of others. In other words, "Just be yourself, man."

Best Part: The keyboard appearance on the last chorus.
7
Black Peaks


All That Divides



"Eternal Light":

What a criminally overlooked song. I get that "Electric Fires" and "Can't Sleep" bangers in their own rights, but people seem to forget about this fast-paced frenzy of a track. Ever since All That Divides came out in early October, this song on rotation nonstop and whenever I wasn't playing the new mewithoutYou album. "Eternal Light" is the best song under five minutes this year and for perfect reasoning. That "perfect" reasoning is: everything. The diverse and passionate vocals make for a wild ride, the bass heavily boosts impact, and the guitar is flying in its own solos and riffs. With a band that ranges in influence from Mastodon to Oceansize to O'Brother, there's bound to be a song I'd get addicted to from their newest album and this is that sweet gem I've been looking for all year.

Best Part: The entire second half.
6
Anna von Hausswolff


Dead Magic



"Ugly and Vengeful":

"Ugly and Vengeful" is a slow, slow burn with creepiness reminiscent to that of a Diamanda Galas piece, but post rock-like. It's all amazing and dangerously enticing. As a 16+ minute song, post-rock fans with pipe organ dreams will forever have an anthem to cherish. To start, the vocals are absolutely fantastic, and the overlaying of the first two stanza endings (which are in the sixth minute lol) was an excellent effect choice. The melodies are all great and the autotune-like effects later in the song work as an alienized weirdness of the main character's fears. After all that is settled, is this song truly transcendental in the music world? I dunno, time will answer that. It sure feels transcendental.

Best Part: Basically everything at 12:45 and after.
5
Beyond Creation


Algorythm



"Algorythm [Title Track]":

Beyond Creation really isn't much different from it's progressive/tech death counterparts that I've become all too familiar with over the past couple of years. Algorythm was a pretty solid release that brought enough riffs, good production, and songwriting variety that kept me satisfied. Yet it wasn't exactly the stellar output I'd been looking for from the death metal community. However, I knew something was special about the title track. Its Gojira-esque guitar effects and solid vocal performances was common throughout the album, it wasn't ever written in a top notch form…until now. Everything about this song works. The intensity never overstays its welcome, its calm section is feels necessary and sounds spectacular, and this might be one of the closest Death-quality songs we'll ever get out of the death metal genre.

Best Part: The breakdown at 5:58.
4
Car Seat Headrest


Twin Fantasy (Face to Face)



"High to Death":

From here on out, I would consider these songs 10/10 classics.

CERTIFIED CLASSIC

Like many songs on the original Twin Fantasy, I found the 2011 version of this song to be decent enough, but the overwhelming lo-fi aesthetic in the track's production stripped away the fine-tuned rawness I was looking for. Now that a refined, very different version of the album has arrived, my requests can finally be truly fulfilled. Will Toledo's crackled, monotone vocals really fit the lyrics and surrounding instruments. The lyrics get more and more captivating the further into the song you get, and it mainly starts when Toledo repeats the phrase "around the room" as a reference to the paranoia from the short story "The Yellow Wallpaper". There's a lot here and it's fairly difficult to absorb all of the content completely, but it becomes a much greater story when you do so. Not to mention that the music is splendid beyond belief.

Best Part: The sheer brokenness of the first verse.
3
Kamasi Washington


Heaven And Earth



"The Space Travelers Lullaby":

CERTIFIED CLASSIC

Kamasi Washington came into my life at just the right time. I had just started to gain an affection for jazz as I was slowly realizing that the genre was the basis to most of the music that I love today. I started what will hopefully be a long journey of jazz escapades with this man's work. While Heaven & Earth is not as good as The Epic, perhaps nothing he's ever created has been as heavenly to the jazz sound as "The Space Travelers Lullaby". This track is an orchestral voyage with some of the best and most uplifting music I've heard this year. The ten-and-a-half minute runtime goes by criminally fast as you get caught up in the interplanetary journey this track is on. It's a must listen if you like music at all or if you have a soul.

Best Part: The string section appearance at 5:14.
2
Yhdarl


Loss



"Sources - Nihil":

CERTIFIED CLASSIC

This song singlehandedly gave me faith in funeral doom again after a year of getting consistently disappointed by the genre. Even Yhdarl's Loss was mostly just a half hour of schlock up until this point, but it was beyond worth it. The psychedelic guitar effects that match the droning guitar are mesmerizing beyond belief. That's until you get slapped awake by female vocalist Larvalis's terrifying shrieks. Yhdarl perfected a crucially important part of drone metal: patience without meander. All Hell breaks loose at the ten-and-a-half minute mark with ritualized vocals and a cursed organ. The drumming blast beats its way through the tortured screams of the vocalists as the guitars go into infinite densities. It then transitions into a resounding piano section with the rings of a spectacular encore swirling about. This is about as gross and evil as they come folks, and you sure don't wanna miss out on all the muck.

Best Part: The vocals in general.
1
Panopticon


The Scars of Man on the Once Nameless Wilderness



"The Moss Beneath the Snow":

WINNER: Best Song of 2018

CERTIFIED CLASSIC

So, in a two-part, two-hour album sense, I feel that a proper connection between both of Panopticon's musical sides would be just. It's pretty jarring to hear something go from a black metal epic in part one's closer towards something like "The Wandering Ghost". Enter "The Moss Beneath the Snow", a... post metal? post rock? post folk? number that builds up and explodes over its majority. If part one's closer was a message about the protection of nature, this one was a display of its power. I don't have to much to say on compositional sides of things, but if the wilderness sound effects didn't make the song atmospheric enough, why not add some masterfully produced guitar howls? It's not like the listener is drooling already. After all howling is over, fast forward to a realized and settled acoustic guitar passage, now ready to submit itself onto the album's other face.

Best Part: Just listen to it.