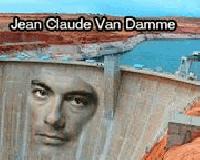 User
Reviews 26
Approval 95%
Soundoffs 31
News Articles 6
Band Edits + Tags 46
Album Edits 105
Album Ratings 673
Objectivity 91%
Last Active 04-07-18 8:10 am
Joined 01-06-15
Forum Posts
0
Review Comments 288
ArtBox's Art Box Week 9: Wolfmother and Shit

Today we're looking at the album artwork of Wolfmother. Wolfmother, for the uninitiated, is Australia's Bloc Party, in that they have gotten progressively worse with each album (up to a point. Victorious might be good.) We're also throwing in Andrew Stockdale's solo album, which is really Wolfmother's third album, released in the two months that Wolfmother didn't exist before Stockdale completely backtracked. I feel mean when it comes to Wolfmother. Let's crack on.
5
Andrew Stockdale


Keep Moving



In case you couldn't tell Andrew Stockdale jerks it to 60s and 70s rock, here's a picture of him driving the classic hippie Mystery Machine, rocking a classic hippie beard with the classic hippie font all across the top. He might even be classically baked in the hippie fashion, too.

Classic. God, this fucking sucks.
4
Wolfmother


Cosmic Egg



If there's one thing that Wolfmother never claimed to avoid, it's sheer bluntness. The cover art is, indeed, a cosmic egg, slightly fractured. Keeping to the theme of classic rock, there's a rainbow here, because why not? There's also a tiny shirtless albino boy. Does this mean anything? Probably not. After months of looking at artwork I don't even know anymore.

Bet it makes a mean space omelette.
3
Wolfmother


New Crown



It's an album cover of a band, and despite the shitty standards of those types of covers, it doesn't suck as much as you would expect it to. The sepia tone style helps with the overall tone. Everyone actually looks happy here, instead of sulking and sitting on a pile of tires. It's a rebirth.

I'm resisting the urge to make a "Wolfmother made it sepia SEPIA LIKE THE OLD SHIT THEY LIKE DO YOU GET IT YET" crack. I'm legitimately trying to be nice here.
2
Wolfmother


Victorious



On one hand, it looks kind of shit. On the other hand, something about this thing works. There's a smooth texture on everything that almost reaches uncanny valley levels. Why the fuck are there plants in uneven brick holes? Why are there blue lasers coming out of wolf eyes?

Something about this picture is taking apart the reality it is in and reconstructing it. It's a weird ass optical illusion that isn't even an optical illusion. The style works, and I don't really know how.
1
Wolfmother


Wolfmother



Big ol' mermaid tiddies. The reason your local town's favourite soulless Wal-Mart tried to position itself as a bastion of morality.

Tits aside, it's the essence of classic fantasy rock distilled into some of its finest form. It's the kind of shit a 13 year old - who only watched The Two Towers out of all the Lord of the Rings movies - would point to and tell his mum it's "grandiose." If Dio didn't love rainbows so fucking much, he'd love nymphs, but Andrew Stockdale and his revolving gang of Aussie shitcunts are going to carry that burden for him, and THAT'S what this fucking album cover is all about.

Final note: They're probably not shitcunts. They're probably lovely cunts.