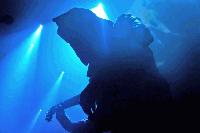 User
Reviews 1
Approval 100%
Soundoffs 128
Album Ratings 5040
Objectivity 72%
Last Active 05-23-19 1:26 am
Joined 11-16-14
Forum Posts
0
Review Comments 1,153
Children of Bodom Ranked

Another band on my list that I never ranked but probably should have 5 years ago. When it comes to Bodom, no matter what you pick you lose apparently. Consider me somewhere between a casual listener and a slightly interested but usually disappointed one. Hopefully it doesn't get me banned from Heaven.
1
Children of Bodom


Follow the Reaper





What even is this ralrbum? Every song is practically scraping a 5/5 if not already, and the weakest is a 4. Thank God this was my introduction all those years back because without this album I don't think I ever would have listened to more than 3 albums. This thing is like the definition of a ghost that comes out of nowhere and whisks you away into the cold silent night, but shrieking all the way.

2
Children of Bodom


Hatebreeder





Hey, it's good, great; but Hatebreeder fans aren't satisfied with it being two. But does this have Everytime I Die or Mask of Sanity? Or Bodom After Midnight, or Hate Me!, or Children of Decadence? You get the point, Hatebreeder brings the tracks in its own right, with Warheart, Silent Night, Wrath Within, etc, but they aren't on the same transcendent level. Hatebreeder diehards act like Follow the Reaper doesn't riff or something. It does, just with more style.

3
Children of Bodom


Hate Crew Deathroll





Now's the time to hate me because you realize Something Wild isn't 1st, 2nd, or 3rd, and you just peeped at the next entry and see that it isn't 4th either. Hate Crew Deathroll has a punch equivalent to that of Fists of Fury that it seems has since tried to be replicated with a handful of subsequent releases and have only succeeded in producing quality results about halfway at best, each time. It's a formula that proves it's not sustainable after doing it right the first time, which unfortunately has produced an extreme amount of (somewhat unwarranted) flak in the middle era of the band. Now for Bodom, this is the last album on the list where I will unabashedly play from start to finish without my attention wavering for more than a song or feel like my enjoyment is better placed elsewhere.

4
Children of Bodom


Hexed





What even is this shit. Where the fuck is Something Wild. This dude deserves a kick in the spleen. Why is this four? Well, in terms of CoB's most recent three in their trifecta of resurgence, this is the best and I think it's noticeable rather immediately. You could say there was experimentation present in I Worship Chaos and you wouldn't be wrong, but this album doesn't need that. What this album needs is what it has, and that is concise (very important), meaningful songwriting that is reflective of the band's (and Alexi's) career at large. It feels like a fresh step into some much needed territory, while keeping the spine of the band in tact. Whatever atmosphere is in and around this album, is there even without the necessary know-how that it was Alexi's last, and for that it certainly shows a compositional strength that was remarkably and markedly missing for far too long up until this point.

5
Children of Bodom


Something Wild





Put this dude on a bed of razors and ship him out to Boston, what the fuck. Why is Something Wild this low. This guy is just asking for me to break out my Knuckleduster. Well, if I'm being honest, it's tiring. 7 songs on this is more than enough, for the type of non-varying neoclassical onslaught that it is, and it isn't technically flawless. And yes, even back then Bodom were a little redundant. I'm also not a big fan of Alexi's vocal phrasing on this but if anything, the band sounds promising of the future.

6
Children of Bodom


Blooddrunk





Okay I'm done. This guy's done for. Honey, hand me my Sixpounder cocked 'n' loaded cause this guy is next in line for having it in his face. Blooddrunk is irredeemable and everybody knows that. Yeah, that's how it was- like eight years ago. But you do know it has better songwriting than Are You Dead Yet, right? It is technically the closest in style and stature as Hate Crew also, but everyone seems to disregard it for some reason. Maybe it's the production, but this album does have the next best collected set of songs than the remaining others, because when you look at it, there's two maybe three throwaways on the whole thing, and that frankly is just less than any of the remaining outstanding albums. If you're interested, the ones I would take off of this are: LoBodomy (but it's a good track title), Smile Pretty, and I guess Done With Everything. The rest of the songs are fine, and earnestly, a step up from AYDY.

7
Children of Bodom


Halo of Blood





I thought it was good when it came out. But I just don't see the fandom for it. Just because it came after Relentless? I just can't see it being higher than a 3.5, because I feel like I can just skip from tracks 6-9 and not miss a thing, and even then the closers aren't the best thing to have come around Bodom's side of the woods. The album starts great, and depending on your viewpoint, either standard by Children of Bodom fare or phenomenally, but I don't think it sustains itself as much as many believed when it first was released.

8
Children of Bodom


Are You Dead Yet?





Now, if you want to talk about obsessed, how about that title track when it came out? There's still nothing quite like it that fills that void in the CoB spectrum to this day. But I'll get it out of the way and say I was never a fan of Living Dead Beat and especially so of, If You Want Peace... Punch Me, I Bleed doesn't really deviate from the rulebook and before you know it, Trashed, Lost & Strungout becomes the only other track on here remotely one could care for, but I must admit, it's also a really good Bodom track and would always place it in a Bodom rotation. While Blooddrunk gives off heavy Lamb of God vibes at times, this gives me Soundtrack-era In Flames style vibes, but I must say, even then, not as good. This along with a fair number of other Bodom releases is where the albums begin to feel like a blur.

9
Children of Bodom


I Worship Chaos





Anyone knows and can tell that this is objectively a much better produced, orchestrated, and delivered album than AYDY, and frankly a better made album on all fronts, so but what in the world is it doing down here, below it? Stylistically, I can't really get behind it all that much. I made the mistake of listening to the album on shuffle once not realizing it, and for like five or six songs I'm sitting here waiting for the good stuff. Maybe it's a disservice to judge it on that manner, or maybe it's helpful to view it in that context. I've never really been able to shake it, and it does impact my judgement on the quality of the album so, I'm including it. It really was like the worst six songs possible to have play in a row though, but it makes me think, how cohesive then is it... Because in my eyes, it's like the album is a whole bunch of missing pieces that leaves a huge unsatisfactory gap, covered up only by the track order itself.

10
Children of Bodom


Relentless Reckless Forever





This was the only Bodom album I had skipped, up until giving their discog another full run to see what it actually is that I like about the band other than the glorious Follow the Reaper. This just felt like an utter and entire mess. Out the gate, the production seems the worst up until that point, and it even sounds worse than Blooddrunk in that regard. Now for a band like Bodom, then going full tilt into thrash-mania, it's probably a little unfair to score and level the album with one listen. Hell it took me years to come around to liking Blooddrunk (being semi-rebellious, since at the time in highschool, it was an old friends favorite), but I just don't see me enjoying the frenzy this appears to offer. AYDY while bland, still has somewhat of a charm to its character. But I'm gonna be straight, a Bodom track really would have helped this.

11
Children of Bodom


Skeletons in the Closet





What, did you think I wasn't going to include it?