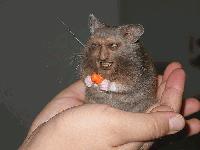 User
Reviews 117
Approval 94%
Soundoffs 220
News Articles 9
Band Edits + Tags 748
Album Edits 1,074
Album Ratings 5108
Objectivity 82%
Last Active 12-16-18 7:23 pm
Joined 09-16-14
Forum Posts
34
Review Comments 18,595
Cut Deeper 16/1/18

Apologies for not putting this out yesterday... well, apologies to the one or two of you caring about this..
1
The Cleaners From Venus


Midnight Cleaners



Only a Shadow

Before Ariel Pink there was this gem. Wavering in the underground scene all throughout the UK, this Lo-Fi act was a sight to behold and a beauty to listen. Only a Shadow might not be their most punching song, and neither is it their sweeter offering, but it is an experience pleasant above and beyond.
2
The Veils


Time Stays, We Go



The Pearl

The Veils are masters of haunting Pop-Rock. Every one of their releases has that distinct shady mood to it, even when it hits harder or a chatchier note. But the absolute undisputable highlight of their records have always been the melancholy and the longwinded sorrow within the more folk-centric tunes. The Pearl might just be one of their best, delivering a bitter ballad of foolish determination with a strong presence of a certain hollow nothingness that engulfs your every sense.
3
Shame (UK)


Songs Of Praise



Lampoon

The recently released album by Shame left me rather cold, but I far from hated the experience. To prove that, here is my definite highlight. This song is by far the album's most driving, off-the-hook and fun little adventure, inspite of its lyrical themes being pretty negative.
4
Mac Lethal


The Original 11:11 Sessions



The Sketchbook

It's good to see that Mac Lethal didn't become just another obscured relic of the past lost in eternal oblivion, but managed to go on with the times and started a fairly entertaining Youtube channel, where his lyrical and delivery talents don't go to waste. This song comes from the times he actively delved more into the melancholic moods. And it is as heartwarming as it can get.
5
3rd Bass


The Cactus Album



Soul in the Hole

Now, who actually did get lost in oblivion are these guys. The New York trio was quite a hit back in the day and now this album has under 50 rating votes on Sputnik. Injustice. Nevertheless, this song is a great display of influences and sampling mastery, still standing on the verge of that funky, jerky Hip-Hop that was prominent before the massive mixing of influences started taking the stage, but also not yet a hard-hitting beast that came after. It is a transition point, which is probably why it went forgotten.
6
Ryuichi Sakamoto


Out Of Noise



Ice

This year I'm on a journey to be turned from an Ambient sceptic to an Ambient lover. But in preparation for that I took advice of one user particularly enthusiastic about this idea, or rather expressing the most volital signs of enthusiasm about it, Frippertronics. He showed me the ways of the Ryuch! And through what he said was a complex way to get into the genre, I listened to Ryuch's Out of Noise. And noiseless it was indeed. This is the kind of anti-stress, magnetic instant-calmer I was looking for in Ambient music, but rarely got. And this song stood out as the most enpoweringly beautiful, stirring ambiance of a rainy day to inspire happiness. It's odd and it's charming.
7
Century Palm


Meet You



Sick of It

And because I cannot let the only Post-Punk entry on this list be Shame, here's another one, chosen for a feature here, because other people who rated it were quite unreasonably harsh, I would say. Here's a taster.