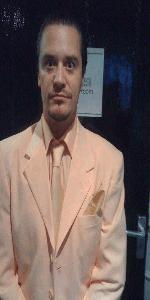 User
Reviews 41
Approval 97%
Soundoffs 116
News Articles 12
Band Edits + Tags 43
Album Edits 52
Album Ratings 641
Objectivity 78%
Last Active 09-06-17 10:41 pm
Joined 04-03-13
Forum Posts
155
Review Comments 8,401
Breaking Baddathon Pt. 5 (spoilers!)

Yesterday's Breaking Bad episode...was amazing (as expected). But what made the last episode so great? It had little action in it, was paced rather slowly, and raised just as many questions as it answered. However, yesterday's episode, "Blood Money," was interesting and extremely intense (especially the last scene). All-in-all, it was a fantastic episode, and I am looking forward to the next one! This list will cover the top ten most interesting moments in yesterday's episode (in no particular order). Unfortunately, this is my final Breaking Baddathon list. I had a lot of fun making these and I loved the discussions we had! Hopefully I can make more lists like these in the future. Now, what'd you think of yesterday's episode? Tell me in the comments. BEWARE -- FULL SPOILERS AHEAD!
1
The Beginning of the Episode

Breaking Bad episodes are infamous for their cryptic beginnings, which make no sense at the time but are later explained either at the end of the episode or at the end of the season. Thus is the same with the beginning of yesterday's episode. Walt arrives at his house one year later to see that it is destroyed, with children skateboarding in his backyard and "HEISENBERG" spray painted on the wall in his house. He gets ricin (!) from a hiding spot in his house and leaves. His next door neighbor pretty much freaks out when she sees him on the way out, implying that people most likely know now that Walt is Heisenberg. This raises a boatload of questions. Who is Walt planning to kill with the ricin? Where is his family? Why is his house destroyed? We will probably not see any answers to these questions until the end of the season.
2
Walt's Complete Abandonment of His Meth "Empire"

This came as a shock to me. Walt, who just a few episodes ago claimed that he was "in the empire business," just decides to quit cooking cold turkey? I expected him to at least have some involvement with his meth empire after he drops out. The fact that Walt leaves all together was an interesting decision on his part.
3
Skylar's Detachment From Walt

During the episode, Skylar seemed emotionally detached from Walt, as if she still doesn't trust or love him. Obviously, Skylar can never changed what happened, but I would think that she'd be happy now that Walt is clean again. However, she still seemed as tortured as before, despite that her life is far better now that it has ever been.
4
Hank's Foolishness

Hank made some really stupid, out-of-character decisions after he pieced together that Walt is Heisenberg. Although this newfound information must have been a shock to him, these decisions are still very foolish for a man who has been in the DEA for so long. For one, Hank straight-up steals the Walt Whitman book from Walt's house. Did it never cross his mind that maybe Walt would notice that the book was gone? Also, the decision to put a tracking device on Walt's car was dumb beyond belief. Hank did this because he was suspecting Walt of being Heisenberg, who is a criminal mastermind. Wouldn't a criminal mastermind be smart enough to be check his car for tracking devices once in a while? It made sense to put a tracking device on Gus's car, since Gus would have no idea who put it there if it was found. If Walt finds the tracking device, he will immediately know it was Hank, since he know's Hank's tactics. Ugh...I'm probably just overthinking this.
5
Jesse's Redemption

Upon receiving the five million dollars he earned from Walt, Jesse decides that he no longer wants it. Tormented by his guilt, Jesse decides to use the money to redeem himself and set things right by giving the money away to the parents of the kid that Todd shot and Mike's granddaughter. If anyone redeems themselves in this show, it will be Jesse. He is the only character that shows legitimate regret for what he was done, and hopefully by the end he will clear his conscience. The question is...how will he do this?
6
The Cancer Returns

Yep, the cancer is back, and just like the beginning of the show, Walt thinks that he only has months to live. While I can't say I'm particularly surprised, I will say that this is certainly an interesting turn of events.
7
Badger's Star Trek Script

Not too much to say about this one, but this scene was hilarious. It was nice to have a comedic scene in an other dark and intense episode.
8
Walt and Lydia's Conversation

I don't know if I'm the only one who noticed this, so I'll just throw it out there. Walt has, essentially, become Gus. Remember seasons 3 and 4? There were times when Walt desperately tried to talk to Gus out of concerns about the meth business while Gus was at work, prompting Gus to pretend like he is having a work-related conversation, practically ignoring what Walt was saying. The same thing pretty much happened in the car wash last episode, except Lydia has replaced Walt and Walt has replaced Gus. Walt did the same thing Gus would have done if he was in Walt's shoes. This may not matter in the long run, but I found it interesting how the writers showed Walt's evolution over the course of the show.
9
Hank vs. Walt at the End of the Episode

Damn...those last moments of the episode were tense. The looks Hank was giving Walt, the way Walt never admitted to anything while at the same time admitting to everything. Honestly, it was one of the best-written scenes in the entire show. That scene was a real game changer as well, as Hank is now conflicted on whether or not to turn Walt in to the authorities. I am truly fascinated to see how this all plays out next episode.
10
Walt's Threat

Walt to Hank: "Your best course of action...is to tread lightly." Walt's threat to Hank about turning him in is both vague and absolutely terrifying. Before, Walt would never even consider killing his brother-in-law (Walt even killed Gus when he was trying to). However, that all changed last episode. Hank is now skating on thin ice, and if he makes one wrong move...Heisenberg will strike. Walt's threat leaves Hank with an incredibly important question. That question is, what does Hank value more: his family, his job, or his life? If he turns in Walt in favor of his job, he will be accomplished and fulfilled, but he may lose his life and his family. However, if Hank lets Walt go, he will keep his life and his family, but he will lose his job and never forgive himself. Which course of action will Hank eventually decide on? I don't know, and I can't wait to see!