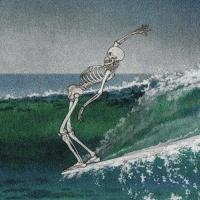 Emeritus
Reviews 53
Approval 93%
Soundoffs 176
News Articles 23
Band Edits + Tags 20
Album Edits 137
Album Ratings 0
Last Active 10-20-20 10:09 pm
Joined 01-03-10
Forum Posts
262
Review Comments 20,936
Artists Whose Best Albums Are Live Recordings

Title should make this self-evident. I used to think live recordings were a waste of time but as I listened to more and more I realized that good live shows can capture an energy and spirit that's almost impossible to recreate in a studio recording. List is in no particular order with descriptions to help contextualize.
1
Kraftwerk


Minimum-Maximum



It's rather indisputable that Kraftwerk created our modern conception of electronic music. Yes, the foundations of electronic music were laid down before these German's started pumping out proto-techno, but no one else coalesced all the different influences into a fully formed vision as well or as early as Kraftwerk.

Minimum-Maximum is essentially a live overview of their entire career, with new arrangements of classic tracks and upgraded production. But, instead of feeling like a modern reinterpretation of their cataogue, it honestly feels like the best Kraftwerk has ever sounded, in studio or live. The production is honestly better than any of their studio albums, and the rearrangements are almost 100% better than the original tracks. It's so good that it needs to be heard to be believed, and i would recommended any contemporary listener start with this album over any of the originals.
2
Napalm Death


Live Corruption



Napalm Death has two eras: the grind foundations and the eventual turn to death metal with Harmony Corruption. This live recording captures the band right at the confluence of these two permutations, and contains both the thick, downtuned groove of the death metal years with the unrestrained spastic brutality of the grind years, all while wrapping them in the fuzziest, most suffocating production they would ever achieve. As someone who has seen ND live multiple times, their music is made to be played and listened to live.

Not to mention this is the best Mick Harris' drumming ever sounded. A man truly deserving of his nickname, "The Human Tornado".
3
Jeff Mills


Jeff Mills @ Wire



I didn't really understand classic techno until I started going to shows. It's music that was entirely intended to be played and listened to live in a club or warehouse. Sure, there's bedroom techno that's nice to throw on the hifi, but true banging Detroit techno can really only be listened to through a soundsystem with a bunch of other sweaty meatbags high on a cornucopia of mind altering drugs.

If you can't seem to find that experience (really only possible in big cities), but bootleg will do. It's the best set Jeff Mills ever did, and probably the best Detroit techno has ever sounded. Constant flow of energy, endlessly engaging, immaculately mixed, and absolutely lush as fuck. THIS IS DETROIT.

You can listen to it here: https://www.mixcloud.com/Drumaddict303909/jeff-mills-live-wire-03-in-japan-8-30-2003/
4
James Ferraro


Live at Primavera Sound 2012





James Ferraro, the enigmatic New York-based pioneer of vaporwave has been pumping out a constant stream of hypnogogic dream logic in the form of vaguely recognizable aural compositions since the late 2000's. While his discography is fairly daunting and oscillates from syrupy gutterpop to utterly inaccessible avant-garde plunderphonics, his live set from Primavera Sound is easily the most focused and triumphant in his extensive catalogue. Rainforest atmospherics rain down over phosphorescent vocal samples and shimmering neon synths as a constant, thumping electro beat provides solid foundation for Ferraro to explore basically his entire approach to composition in just under 30 minutes. One I truly wish I had been there to experience.

5
Bloodbath


The Wacken Carnage





Disclaimer: I don't like this band, no do I really like any of their studio albums beyond the Breeding Death EP. But, this live album is proof that even a mediocre supergroup (seriously, has a music supergroup ever actually turned out good?) fronted by an obnoxious Swedish prog nerd can punch above their weightclass with the right energy. The sound here is the best they ever sounded (that snare omg so fuckin good), and the band is firing on all cylinders, which for whatever reason elevates what originally sounded rather milquetoast into a really engaging, super fun slab of throwback Swedish death metal. Eaten is the standout here, and sounds so much better than the actual album version.

6
Tangerine Dream


Ricochet





This one honestly isn't too far out of left-field, because the bands live albums have always been heralded as some of their best work, if not the actual best. I'm of the opinion that this is probably the best thing they ever released, hitting on everything that made Tangerine Dream the international juggernaut of German progressive electronic music. If you've yet to hear any TD, you can't go wrong starting right here.

7
Mayhem


Live in Leipzig



Hot take: De Mysteriis Dom Sathanas is probably the worst of the second-wave black metal classics !n fact, it's not even their best studio album (that prize goes to Ordo Ad Chao). I mean, it isn't bad, not by a longshot, but every song on the studio album played here sounds better and more iconic than anything the band did in an actual professional recording environment. That album art, the raw black magic sounds, Dead's absolutely soulsplitting vocals. This is Mayhem at their best. Plus it has one of the most iconic openings to a metal track ever recorded.

"When it's cold...and when it's dark...the freezing moon can obsess you......"