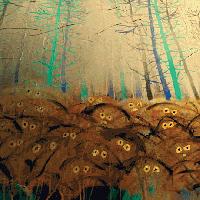 User
Reviews 26
Approval 94%
Soundoffs 53
Album Ratings 589
Objectivity 80%
Last Active 10-21-20 7:53 pm
Joined 07-09-08
Forum Posts
23
Review Comments 1,910
Words I Have Allegedly Said

I am a graduate student teacher of record. What this means is that my university pays me a stipend to teach intro-level writing classes to incoming freshman students. These are the classes faculty members don't want to touch with a 10-ft pole. But it provides me with valuable teaching experience and a salary; I make just enough to pay my bills and occasionally go to the candy store. I'm also getting the once-in-a-lifetime experience that is shaping the nation's youth during a global pandemic...and this, while it comes with the advantage of being able to make faces at them behind my mask, also presents some unique challenges. Because my students will naturally get the virus (I think like 75% of them have quarantined or fallen ill since last fall), my lectures are recorded for posterity. I do not like this. I don't like it at all. For one thing, the program that records, renders, and uploads my lectures *also* takes the liberty of transcribing them, sound for sound, into a massive fucking wall of text. For the most part, these transcripts read like dogshit stream-of-consciousness (and sure, some of what I say *is* dogshit, but I think for the most part I'm good at being the hip young prof). But occasionally, these transcripts veer into the insane. Here are some things I *definitely* said to a room of 18-year-old kids. List is digs.
1
Empty Country
Marian

"Hi. Hello. Hi. Okay. Hi. Why? Oh, wow. Wow. Wow. Hi. No."
2
Weezer
Aloo Gobi

"Why is universities? Why are universities the way they are?"
3
The Avalanches
We Go On

"How many you got a bit of an animal driving? Really only. Wow. I'm very happy for all of you. It's very sad. I hit a Poisson once on my drive home as an undergraduate and just like rayon out in front of the, in front of me. Poor thing. So this is a sad armadillo. It's been hit. It's okay. Just messed up or stay a little bit."
4
DIIV
Like Before You Were Born

"And so who's to say Shrek isn't a work of Marx's literature?"
5
The Go! Team
Everyone's a VIP to Someone

"Dressings. Dressings. I've opened up a world of versatility, opera, and you need Dianas in every tissue. Mary's favorite condiment is French. Highly versatile item that is commonly used. Salad vegetables, chicken wings, positive. Everything else. Branch was created in the 1930s and it's absolutely loaded. And stolen. Narrative is hard because it's introduction. The Hidden Valley Ranch commercial from the year 2000 contributed to the boom and branch, presenting it as a healthy must have. This branch Commercial begins by showing a recently washed and remarkably perfect chunk of Romaine lettuce breaking in half using the additive fresh, describe the particle, moves on to then describe other vegetables such as cucumbers and tomatoes. With braces such as still fresh, growing, it's still feel like they're still warm fruits."
6
Viagra Boys
In Spite of Ourselves

"Well, that's just kinda like playing leapfrog over each other with the words...what does a sandwich? It's not a hot dog, but what is it?"
7
New Order
Bizarre Love Triangle

"Today I'll just be holding this kinda silly hurry. I'll do one. I can't do this. I feel like a bad stand-up comedian. I'll be right back."
8
Todd Terje
Johnny and Mary

"Why would anyone study in Virginia, Raghavan or shakes, or philosophers? Think about literary analysis. Texts are continually, the best tests are continually unhappy. Even ordinary pop culture means endlessly unhappy."
9
Spoon
Hot Thoughts

"Sorry, I'm big hard on."
10
LCD Soundsystem
Losing My Edge

"Oh, yeah, I'm so passionate about my cats."

Not gonna lie, these are totally my words.