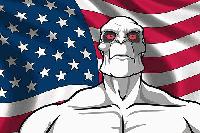 User
Reviews 163
Approval 97%
Soundoffs 12
News Articles 16
Band Edits + Tags 2,963
Album Edits 7,695
Album Ratings 2922
Objectivity 88%
Last Active 07-11-20 5:02 am
Joined 08-18-16
Forum Posts
66
Review Comments 5,731
Supergenius Reunion

This will likely be of no interest to anyone other than a fellow Long Islander, but caught the 20 year reunion show for the LI heavy alternative band Supergenius last night.
1
Supergenius


Product3





The band was firing on all cylinders from the beginning, starting right out with one of their heavier, rockier songs, "Once Charmed

2
Supergenius


We





They played a number of their more popular tracks, such as "Shh" and "The Moon", plus some of their earliest material, like "Three" and "Dramatic".

3
Gina Cutillo


For the Love of C...





Lead singer Gina Cutillo has had some solo success over the years, including a recent single, "Keep On", making the Billboard charts. She was in great form last night, even stage diving near the end of the set.