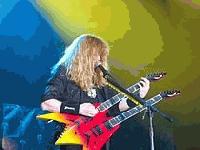 User
Reviews 3
Approval 88%
Soundoffs 1
Album Ratings 205
Objectivity 71%
Last Active 06-10-19 2:14 pm
Joined 05-20-17
Forum Posts
0
Review Comments 316
Billy Talent Ranked (2019)

With excellent songwriting, high energy, and great production, you'll seldom find a mediocre album in the Billy Talent discography. That being said, with the exception of Billy Talent II, this was a very hard list to rank.
1
Billy Talent


Billy Talent II





Easily the best in their entire discography, and a top-tier rock album. Best tracks on here? Just throw a dart; it has everything. The perfect starting point if you're looking to get into Billy Talent, and then check out their first album for their humble beginnings. If you're still on the fence though, check out the singles: Red Flag and Devil In a Midnight Mass.

2
Billy Talent


Dead Silence





This was considered a sort of return to form after the third album. Overall just a solid track list, with a slight slump in the middle on the song Stand up and Run, but picks back up again with the scathing lyrics on Crooked Minds. Then that signature Billy Talent energy comes back full force once Man Alive! fires up. Viking Death March is also a hard jam.

3
Billy Talent


Afraid of Heights





A very close tie with Dead Silence, but due to songs like Louder Than the DJ and the title track getting a bit too repetitive on subsequent listens, it takes the number 3 spot. Definitely one of the brighter sounding albums, and has absolute bangers like the Muse-inspired Horses & Chariots and the soaring February Winds.

4
Billy Talent


Billy Talent III





The production sounds a bit muffled on the percussion and bass, but other than that I'm not sure why this album gets so much hate. It's the sound of a more darker, subdued Billy Talent. With the anthemic White Sparrows and heavy bangers like The Dead Can't Testify, this is perfect for jamming on a rainy day.

5
Billy Talent


Billy Talent





The most generic sounding album of the bunch, but still a step above a typical rock or pop-punk album. You can hear hints of their style beginning to form with tracks like Living in the Shadows and Voices of Violence, and is a worthy, important entry in the discography.