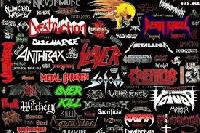 User
Soundoffs 313
Album Ratings 2127
Objectivity 78%
Last Active 05-17-19 11:26 am
Joined 09-18-16
Forum Posts
6
Review Comments 6,827
Big Changes Are Coming!

Read the list for more info.
1
Angelcorpse


Hammer of Gods





So after my ex gf and I broke up over one and a half years ago, I moved back in with the fam. The job wasn't giving me substantial enough hours to rent a place of my own, and a lot of my friends were struggling to make ends meet around that time so having a roommate I could trust wasn't quite an option. However, the past couple months or so, I started a band with some friends of mine, and one of them and myself is moving in together in about two months or so.

2
Demilich


Nespithe





This is very exciting because he's a really swell guy and talented guitarist with a lot of connections, and him and I are very committed to our band. We're trying to get our other guitarist on the same page as us which is presenting some challenges, but we'll figure something out regarding that. Either way, I can finally commit to music full time which has been my lifelong dream. I started a band back in college with these ambitions, but the rest of the band were more focused on fucking around and getting completed smashed all the time so it didn't work for me. I don't mind me some booze and all, but I don't let it hamper my productivity!

3
Black Witchery


Inferno of Sacred Destruction



I'll be leaving my job at the Target I work at where I've worked for three years now which is probably the hardest thing about this. I'm working on getting a transfer at the Target near where I'm going to live which will be super convenient from a car/gas standpoint, but it also kinda sucks leaving my job. I've left quite a mark on my store, and personality wise, they'll have to do overtime finding someone like me!

In the meantime, I'm looking around the area for other potential employers if the worst case scenario happens (not getting the transfer). If our other guitarist gets his shit together as far as commitment and finding reliable employment, he'll have a chance with us too. I'm helping Jesse practice patience because him and I have dealt with similar shenanigans before so we'll hope for the best. Otherwise, we've got connections!
4
Solitude Aeturnus


Beyond the Crimson Horizon





I'll be a little over an hour away from the family which really isn't that bad. I can realistically see them a couple times a month and will still save a lot on gas. My mom and little bro are fully supportive of me chasing my dreams, but my grandmother is much less enthusiastic which sucks but it is what it is. She's just a stupid, judgmental, financially retarded bitch so it's whatever, but I'm not burning bridges with her so she doesn't create any ridiculous, unnecessary challenges.

5
Children of Bodom


Are You Dead Yet?





So yeah that sums up the big picture of what's going on in my life right now. I'm a bit nervous about it all: new place (this time, it's a place of my own), new town, and new job, but I'm more excited than anything, and the music scene up there is phenomenal so that'll work in our favor. I'm a smart Italian with my money so no matter what happens, I'll make it happen, and life's too short to not chase my dreams. College didn't do it for me, moving in with an ex gf didn't do it either, and moving back home certainly didn't do it, but I'm taking chances and not turning back this time.