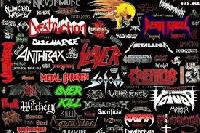 User
Soundoffs 307
Album Ratings 1916
Objectivity 78%
Last Active 02-21-19 9:33 pm
Joined 09-18-16
Forum Posts
0
Review Comments 5,651
Battle of The Big Four: Day Seven

Y'all had a great time with the last list? Probably not right? Well you're in for a real treat today because we're pairing up the albums that are generally considered their worst (their lowest rated on Sputnik). What's your favori- I mean....what's the least awful of these in your eyes? You decide!
1
Anthrax


Stomp 442



Nominee goes to Vol. 8 : The Threat is Real because some people think that one is worse.

Strike, Coast,
2
Slayer


Diabolus in Musica



Nominee goes to Repentless for the same reason.

vermillionZ, Slex, deathschool, manosg, Dewinged, DoofDoof, BAT, TheClansman95,
,
3
Metallica


St. Anger



Nominee goes to LuLu because it's worse than this, but it's technically a collaboration and not a true Metallica album.

ButtBoy, bgillesp, wojodta, Judio!, joshb9864, Morningrise767, Doibhin69, BerryGarlicia, Insurrection,
4
Megadeth


Super Collider





Nominee goes to Risk because some feel it's the least "MegaDave" out of their albums.