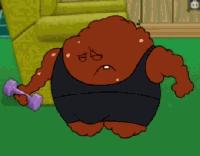 User
Reviews 5
Approval 90%
Soundoffs 152
Album Ratings 1258
Objectivity 68%
Last Active 07-22-16 1:48 pm
Joined 07-22-16
Forum Posts
0
Review Comments 388
saw Tigers Jaw's first show in my town yesterday

Hey guys. Yesterday, 03/11, I went to a famous underground concert house in my city (Curitiba), with my girlfriend, to see Tigers Jaw's first time around here. It's worth remembering that this is not their first time in Brazil, since they came in 2015 to play in São Paulo. The show was great, the atmosphere was cool, the audience was very happy and warm, and the coolest thing was to see the harmony between who was present and the band.
1
Tigers Jaw


spin





The setlist consisted of 1/3 of this album.

2
Tigers Jaw


Tigers Jaw





The famous "ballads" were on the setlist, being I Saw Water, Chemicals being sung by the public and not by Ben Walsh.

3
Tigers Jaw


Two Worlds





The band paid attention to all their studio albums. In this case, the one played was Test Pattern.

4
Tigers Jaw


Charmer





I felt that there was a little more Charmer, but I understand that since Spin is the latest, the band should compose the setlist to promote their new sound.

5
Tigers Jaw


Belongs To The Dead





The underground scene here in my city is tightly knit together, bringing even a restraint to the bands coming here. When I got to the show, I went straight to the bathroom to piss off the beers I drank, and there were Ben Walsh and Brianna Collins taking pictures with the crowd. This kind of scene has always happened here, and it has given me an opportunity to talk to Close Your Eyes folks, and enjoy the sound of Pennywise alongside Zoli Teglas, back when he was the lead singer of the band.

6
Tigers Jaw


Spirit Desire





Overall, a great and beautiful show here in my city. Looking forward to see Turnover and Strung Out in december.