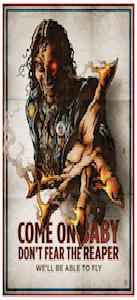 User
Reviews 6
Approval 80%
Album Ratings 387
Objectivity 71%
Last Active 10-25-17 11:57 pm
Joined 10-17-16
Forum Posts
0
Review Comments 11
Opeth Albums Ranked

A ranking of one of my favorite metal bands and one of my favorite prog bands
1
Opeth


Damnation





Yeah this album is devoid of metal, so a lot of why most people listen to this band is kinda absent here. But, that being said, this is easily one of the best progressive rock albums ever recorded. It's soft, it's quiet, it's eerie, it's mysterious, even frightening on occasion, and nearly everything is pitch perfect. This is an exploration of resignation to a tragic fate. The vocals here are beautiful and haunting, and while they don't have Mikael's iconic demonic growls, his more down to earth vocals make for an unexpected stylistic departure for the band that really paid off.

2
Opeth


My Arms, Your Hearse





Opeth isn't exactly a cheery band, in fact, My Arms Your Hearse, as an emotional journey, is more dark and twisted than Damnation. Damnation is consistent and delivers a meditative experience, this is more cinematic, as there's a real story going on here, one I won't spoil because it's actually quite intriguing. If you wan't an Opeth that's more of a balance of the two distinct genres they occupy, then this is your album. This was also the album where their production started getting really good. Not squeaky clean, but rough enough to feel raw without sacrificing quality. This album hit me on a personal level, and managed to capture the emotional side of grief in a way that leaves me fascinated through every listen,

3
Opeth


Ghost Reveries





I think this album being so high might get me some odd looks but honestly, every time I listen to it it just grabs me in a way most albums don't. It's the sound here that sucks me in, it's hypnotic, ghoulish, and even kinda spooky. At times it even feels like there's a bit of Doom Metal influence. And I gotta give props to 'The Baying of the Hounds' which is a song that eclipses 10 minutes and manages to feel like 2 with how explosive and dynamic it is. Definitely a personal pick.

4
Opeth


Blackwater Park





Yes, yes, I know, ten million points from Gryffindor. This is the flagship Opeth album and often considered their best. And you know what? I don't disagree with that. it just doesn't contain the emotional connections of Damnation or My Arms, Your Hearse, and Ghost Reveries is just a sonic direction I prefer, but Blackwater Park is a monolithic odyssey of music. This album is the epitome of 'All Killer no Filler' which isn't always the case with Opeth, as their longer songs can sometimes drag because no artist is perfect, but Blackwater Park does not suffer from this. The production here, courtesy of Steven Wilson, is absolutely pitch perfect, and would continue for their following albums.

5
Opeth


Watershed





Watershed is sorta Blackwater Park lite, but when I say that, I mean it in a good way. This album is one of the more unfocused Opeth albums, but in doing so, manages to be very diverse and interesting to listen to. It's definitely on the heavier side, and probably marks the release of the last truly great Opeth album. This is actually a fairly accessible venture, so listen to this if you're looking to get into them.

6
Opeth


Still Life





Still Life suffers from one flaw, that flaw being technically immaculate. That makes little sense, but Still Life does the same thing as My Arms, Your Hearse did with a story, but, if this makes any sense, this album is so well executed musically it becomes unrelatable a bit. Like the band is operating at such a level that it ceases to connect. And that could be a personal thing, but nonetheless, this album is fantastic. It is also VERY heavy, almost as heavy as deliverance, but in my opinion, slightly better.

7
Opeth


Deliverance





I feel Deliverance works better as a companion piece to Damnation rather than a standalone project. It just doesn't feel quite complete on its own. This came from the band trying to divide their sound into two distinct albums, Deliverance being the album that was exclusively metal. Damnation felt very open and shut, Deliverance compliments it, sure, but the reverse can't be said. I do feel the focus on the heavy side definitely robs Opeth of their charm, but if you wonder what they sound like unhinged or just want something brutal, here ya go.

8
Opeth


Morningrise





This is the point where I have less and less to say about each album. Morningrise has kinda lackluster production and suffers from one cut that is WAY too long, and feels unabalnced, but is still beautiful and fills the void of an 'amateur' Opeth effort. Still a great album, but Opeth specializes in great albums, so unfortunately it just lands kinda low.

9
Opeth


Orchid





Orchid is their first album, and it's surprisingly confident. You can tell what Opeth is going for. Unfortunately, the production isn't amazing and I feel that instrumentally it is a bit weaker. All the songs here are long, and I don't feel they need to be considering how conventionally structured they are. Not quite as good as Morningrise, but it's still absolutely worth a listen.

10
Opeth


Heritage





Heritage is just... meh. The more recent Opeth efforts have been shoddy at best, and this is pretty shoddy, but comparatively speaking, it's okay. It is 'acceptable' but this is really only for completionists, if you don't listen to this, I can't say you're missing much, but it's definitely not awful.

11
Opeth


Pale Communion





This album is similarly boring like Sorceress, but it's only real distinct quality in Opeth's discography is that it is slightly better than their worst album.

12
Opeth


Sorceress





This album is pure boredom. It makes me sleepy. It is prog rock Nyquil. I cannot find it in me to actually sit down and listen to this whole thing in one sitting.