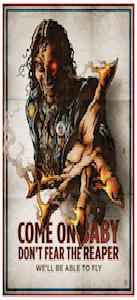 User
Reviews 6
Approval 78%
Album Ratings 392
Objectivity 71%
Last Active 10-25-17 11:57 pm
Joined 10-17-16
Forum Posts
0
Review Comments 11
Brand New Albums Ranked

Oh God here we go... I shall attempt to organize my thoughts and feelings into a cohesive list describing a band that appeals to emotion more than anything else...
1
Brand New


Science Fiction



*audible gasps*
Yeah yeah I know. It's the newest album. It's like a month old. Cue the 'normie' insults. However, I gave Science Fiction my lens of judgement just as harshly as I cast it on every other BN album, in preparation for it, I listened to their entire discography to really dig into the band. I had only listened to one other album. And yeah, after thinking on it, this is my favorite. Every Brand New album is the musical manifestation of a negative emotion in my eyes, Science Fiction for instance, is pure and unrelenting emptiness. This album RUINED me. In the way only great albums can. It's beautiful, sad, violent, and frightening. Still a riveting listen.
2
Brand New


The Devil and God Are Raging Inside Me





Yeah I know, shocking. Devil and God is on everyone's list. I'm not sure WHAT list exactly, but it's on there. This was the only Brand New album I had listened to before all the others, mainly because this one is so thoroughly focused at reducing listeners to a tiny pile of sad ashes. I just didn't think I could handle more. And yeah, if every album they've made is negative feeling, this one is sadness. Not just sadness, but the real dark night of the soul kinda stuff. Limousine is probably the most unfathomably depressing song ever recorded, and pretty much every song on here feels designed to break your heart. Trying to describe this band's music on a technical level doesn't do them justice, so honestly, if you wanna cry and lie awake at night alone in your bed, here's your album. Have fun.

3
Brand New


Daisy





So what negative concept is Daisy? Easy, Daisy is, pure and simple, white hot boiling anger. Like, VIOLENT and SCARY anger. This isn't just your everyday 'sad boys a-screamin' and a-yellin'' emo album, this is like, listening to what an anxiety attack feels like. It's as if somehow Brand New decided to take that feeling you get when you feel complete and utter loathing and contempt for something and it sets your nerves on fire and distill it into musical form. Every instrument is played with power and anger than just blasts through your headphones and almost makes it feel cathartic somehow.

4
Brand New


Deja Entendu





Deja is... wow it's hard to describe it. Deja is adolescent angst and rebellion. Like a really down to earth coming of age story. This album, sonically, is a bit more run of the mill, which is what puts it lower than the others for me. The sound here is just a bit more conventional, but really I think that's also a good thing, it's about as accessible as Brand New gets. 'The Quiet Things that No One Ever Knows' is one of my personal favorites, and really, every track here is really diverse and pretty much everyone can find something here. Start here if you want to get into them.

5
Brand New


Your Favorite Weapon





This album is kinda unfairly overlooked. I kinda get it, because I mean, look at the discography here, there's inevitably going to be one of these albums that gets the shaft. Brand New's debut album feels like a debut album, it's not super cohesive and it is certainly less unified than it's brethren, but even so, the youth and immaturity almost adds to it. All in all I think it embodies confusion, like Brand New were attempting to contextualize life but weren't really sure how, and thematically, that sorta works. I think that this is still very solid, but the best cuts feel like they wouldn't be out of place entirely on Deja, but this is still essential listening.