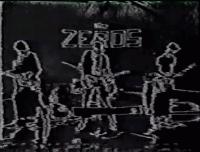 User
Reviews 19
Approval 92%
Soundoffs 29
News Articles 20
Band Edits + Tags 39
Album Edits 171
Album Ratings 1565
Objectivity 74%
Last Active 06-28-15 12:48 pm
Joined 09-18-09
Forum Posts
135
Review Comments 10,506
10(000)

I hit 10,000 comments on this account last night. Took me 5 years. Here's 10 albums that I have thoughts about. Not even all of these are 5's, but they're just albums that I've listened to enough times and that have in some way shaped my taste in music. There's no order of favorites here.
1
Minutemen


Double Nickels on the Dime



Favorite album of all time. Favorite band of all time. It's this one reporter's opinion that this is really
as good as music gets. These guys' approach to the music reflects their messages and ethos of
equality, as every instrument in equal in the mix, never stepping on each other's feet. No member
needs the glory, and to do so would totally break the cohesion of the album. The best part is, they're
all exceedingly skilled enough to warrant their presence in each song. D. Boon's scratchy guitar and
boisterous vocals, Mike Watt's bass thuds and George Hurley's jazzy drumming all complement each
other perfectly. No part is lacking, and every part seems to be written in respect to all of the other
parts. When you have three of the most skilled musicians like we have here, this can't go wrong.
2
Bear Vs. Shark


Terrorhawk



This is the first post-hardcore album I've ever heard and it still might be my favorite. Call it nostalgia
(which it most certainly is) but vocalist Marc Paffi has some way of using his voice that I can't quite
put my finger on that makes this music explode. It's the kind of thing where the rhythm and gait to
what he is saying, matched with the music, somehow further gives more meaning to WHAT he is
saying. Stylistically, these guys kept the genre real, likening closer to The Argument era Fugazi than
sticking to any new trends that we're destroy -- eherm -- developing in the genre, yet Terrorhawk
remains one of the freshest and most creative punk albums I've ever heard.
3
Future Islands


In Evening Air



Sappy emotions haven't sounded so real in... ever. Samuel Herring's deep and guttural vocals are a
game changer here. The band churns out soundscape after dreamy soundscape to serve as a backdrop
for Herring's harsh and imposing presence. He can be rough on the ears to new listeners, but not even
in an abrasive way. That's the thing, somehow his voice rubs against the grain of the music, but in such
a resonating way, resulting in an overflow of FEELINGS. If a band is going to sustain themselves purely
off of how they stir up emotions, then they better go all-the-fuck-out with it. Future Islands go above
and beyond.
4
Titus Andronicus


The Airing of Grievances



Look, I got REALLY into The Monitor the year it came out. It was perfect, I was a college bound high
school graduate, and this huge desperate production filled with so much ambition, probably to its
detriment, seemed to be perfectly attuned to my emotional vulnerability at the time. The Airing of
Grievances aims to do something entirely different. Now that I'm a careerless 20-something with a B.A.,
this album is what I jam when I jam Titus. The nihilism on this album seems is so fresh. It's not
concerned with being huge like The Monitor was. Quite the opposite, The Airing of Grievances has a sense
of compression and introspection to it that project these internal feelings of helplessness. It's bombastic
not for the sake of spectacle like The Monitor, but simply for the sake of itself. I don't know, maybe when
I'm a dead inside, uninspired slop of a human I'll get into Local Business.
5
Hella


Hold Your Horse Is



Any attempts at math rock should have been quelled after this album. It's catchy in its own way without
sacrificing a bit of technical proficiency. Somehow these completely sublime passages of frantic drumming and
noodley guitar playing stick in your mind and soon you inexplicably have melodies stuck in your head of some
rhythm that seems like it was never meant to be figured out. Truly and opus of the genre.
6
The Mountain Goats


The Sunset Tree



Sometimes, I'll check out an album by a band I've never heard before and become so enamored with
that album that it's difficult for me to tear myself away from it to check out other releases from the
band. The Mountain Goats are probably the most prime example of this in my life. I probably listened
to this album on a weekly if not daily basis for a good year or two before finally checking out other
Mountain Goats albums. John Darnielle's skills as a lyricist are equaled by absolutely no one. I haven't
much else to say about this album other than that. It's not something you check out for any other
reason that Darnielle's vivid chronicles of his experience of living with an abusive stepfather. He does
not allow himself to be pigeonholed into only communicating anger, but rather includes the whole
spectrum of human emotion.
7
The Jesus Lizard


Goat



What I would give to see these guys in their heyday. Videos of this album's opener "Then Comes
Dudley", shows the band dutifully pounding out their circus cadence as frontman David Yow stands
there, smiling a demented smile, making a cradling motion with his hands like some fucked up
marionette, only to rip through the music with his tortured vocal delivery. The genius behind the
band is that the vocals are so low in the mix, that Yow must shout and claw his way to the front to
even be heard. This implores the listener to listen to what he is saying, and if they can make it
out, they're treated to some masterfully crafted lyrics. In interviews Yow has stated that the
sound of what he's saying is more important than what he is actually saying, but I can't help but be
filled with morbid curiosity when reading Nub's discussion of amputation and ghost limbs and Karpis'
account of prison rape.
8
Descendents


Milo Goes to College



If you call yourself a fan of punk and you haven't heard this then stop whatever you're doing and listen
to it. If you can manage to be 15 when you do, all the better, but honestly any fan of punk music can
enjoy this. Every single pop punk band owes these guys everything. Seriously, Descendents should
get royalties from every single pop punk album sold. All the themes and catchiness are there, but they
have the chops to back it up. Bill Stevenson is as good a drummer as it gets in this or any genre and
really helps carry out this album's natural yet unpredictable rhythm changes. There are two kinds of
people, those who like this album, and those who haven't heard it.
9
Lightning Bolt


Wonderful Rainbow



As hackneyed as it is, the phrase "changed the way I think about music" is more applicable here than any
other album. I remember first kicking this album on, sailing through the minute-long noodley intro "Hello
Morning", and then a second later my hair being blown back during the onslaught of "Assassins". Lightning
Bolt conduct more energy with their two instruments (bass and drum kit) and mangled vocals than most
bands do in their whole career. That seems to be Lightning Bolt's ethos: producing the hugest sound
possible with the most minimal means possible. "2 Towers" reflects this, as the majority of the song
consists of mid to fast tempo triplets droning from Brian Gibson's bass, while Brian Chippendale gradually
modifies his breakneck beat to accentuate different perspectives and dimensions contained on this one riff.
10
Nomeansno


Wrong



This is an album that asks a lot of questions, yet I don't think anyone expects and answer to
these any time soon. As the album title suggests, Wrong is an album that attempts to distort
one's perceptions of what they thought was real. Confusion seems to be the main theme here.
"How do you hide from something you have found?" "When does so much become so little,
when does too little become too much?" These enigmatic and disorienting questions serve only
to be cut by the ridiculous precision of the music. This dichotomy of uncertainty and accuracy
illuminate each other in what turns out to be one of the most manically fun punk albums of all
time.