by Andrew H. December 15th 2008 | 14 Comments


More Staff Lists: Nick Butler, Jared Dillion, Nick Greer
At the beginning of 2008, I made it a goal to become more involved in local music. I wasn't sure how to go about achieving that goal, or even what the realisation of it was going to look like. At this point in time though, I can confidently say that I've made significant progress towards what I feel is a far more balanced and organic approach to the way that I view and engage with music. In spending more time at shows and less time on the internet, I've sort of lost track of the year's music-related happenings. The number of new albums I heard this year was significantly lower than in previous years and in all honesty my attempts to catch up all that I've missed in recent months have felt like an excercise in futility.

Despite all of this, the time I have devoted to music this year has been infinitely more fulfilling than ever before. I've made new friends, discovered new artists and learned that ultimately, music is a shared experience as much as it is a personal one. A number of shows in Brisbane stood out to me this year as being among the best I'd ever attended; a Rosetta house show in June, both Off Minor shows in April, both Ampere shows in May and an Ohana show in early July. As much as I love a big stage show, the unifying theme of all of the aforementioned shows is that they were strictly DIY experiences. In chatting with Matt Weed at the end of the Rosetta show, standing around shaking my head with other disgruntled fans after the second Off Minor show was shut down by the police, talking over two nights with the extremely nice members of Ampere, and even in giggling hysterically at the audience member who started a fire and caused a mass evacuation complete with 3 firetrucks, an ambulance and about 15 police officers at a Clockcleaner show just a few weeks ago, I discovered an absolutely vital element of the creation of (and participation in) art; community.

Of course, none of this is to say that the internet is a useless or even unimportant component of the way that we interact with music. If I truly believed that I wouldn't be here at all. The following list is a mixed bag of my favourite records of this year. Some of them were discovered after seeing the artists live. Others were picked up during my travels around the internet with websites like sputnik. Others were recommended to me by friends and others still, I had been hearing in a live setting for a time before they were released (see my number 1). Not one of these methods of discovery is inherently superior to another; the important thing, at least for me, is that now there's a balance. If you value my musical opinion and haven't done so already, I would urge you to check out any one of these records that interests you. Each one of them has affected me significantly on some level and I can only hope that one or more of them will do the same for you.
Top 15 Records of 2008
-
15. Lau Nau - Nukkuu
Laura Naukkarinen recorded her second album in the Finnish countryside during the hours that her son was asleep. Nukkuu is an album of hushed, organic tones and strange instrumentation that doesn't always fit together in a traditional sense. Naukkarinen's airy vocals, acoustic instruments and sparse percussion make Nukkuu the most blissfully chilled-out record of the year.
14. Grey Daturas - Return to Disruption
Return to Disruption is, in no uncertain terms, the best Grey Daturas album to date. While tracks like "Balance of Convenience" incapsulate in digestible portions the group's ability to create sheer walls of ear-splitting noise, longer epics like "Demarcation Disputes/Unity" see guitarists Bonnie Mercer and Robert MacManus waving memorable riffs into the familiar feedback and noisy drones of previous releases.
13. Windy & Carl - Songs For the Broken Hearted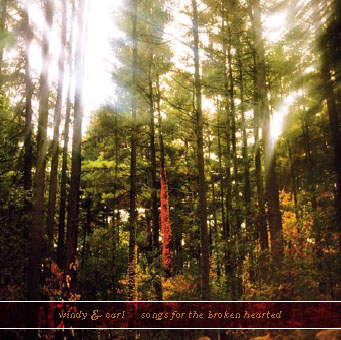 Husband and wife duo Windy & Carl have created one of their most varied and gorgeous records with Songs For the Broken Hearted. Moods and tones range everywhere from aggressive, loud drone to subtle guitar-based ambience but the album is consistently beautiful for its entirety.
12. My Disco - Paradise
With Paradise, My Disco have taken the cold minimalism of Cancer to its logical conclusion. Featuring the production of Steve Albini, 9-minute songs centered around single notes and some of the most unique guitar sounds put to tape this year, Paradise betters its predecessor in every way by becoming even more fun, catchy and danceable.
11. Kayo Dot - Blue Lambency Downward
Blue Lambency Downward takes further the loose, meandering ideas that Toby Driver and Mia Matsumiya have been hinting at (or threatening) for some time with side projects and previous albums. While certainly not as dynamic as previous Kayo Dot albums, Blue Lambency Downward carries with it its own unique beauty. Driver's compositions are as unique as ever and while the record stays away from creating too many climatic parts, there are plenty of beautiful moments, even if the listener has to work a little harder to find them.
10. Hammock - Maybe They Will Sing For Us Tomorrow
In stripping back their music to its barest elements for the purpose of live performance, Hammock discovered the essence of their music with Maybe They Will Sing For Us Tomorrow. Gone are the soft drums, yearning vocals and dense textures of Raising Your Voice... Trying to Stop an Echo. In their stead, Maybe... offers little more than hushed, sparse guitar atmospherics and an hour of sincere, beautiful ambience.
9. pg.lost - It's Not Me, It's You!
It's Not Me, It's You! works so well because it simultaneously subverts and relies on the post-rock cliches of its influences. The major-key melodies and epic crescendos are used to full effect, but the band's playful take on dynamics not only messes with the listener's expectations, it increases the impact of the songwriting (see the soaring climaxes of "Maquina", "Siren" and "The Day Shift") . Ultimately, It's Not Me, It's You! is a post-rock album that manages to combine a perfect mix of innovation, accessibility, sincerity and the ability to avoid taking itself too seriously.
8. Aussitot Mort - Montuenga
Building on the framework established by French emo heavyweights such as Daitro, Montuenga combines climatic songwriting with almost stoner-metal riffing, intertwining delay effects and gruff vocals. The result is an album that is both moving and full of killer moments that are pure rock n' roll.
7. Daitro/Sed Non Satiata - Split LP
France's two finest emo bands teamed up early in 2008 to release what is undoubtedly one of the best split LPs in the genre. While Sed Non Satiata furthered their dynamic brand of emo with an even greater emphasis on melody and clean singing, general concencus seems to view the Daitro tracks as the weaker ones. While that may be the case, the four Daitro songs on offer encapsulate their style just as well as any of their other releases. Moments like the explosion of vocals at the beginning of "De L'eau Coule Sous Les Ponts" or the incredible build-up at the beginning of "Un Fléau Pour Un Autre" are hard to deny.
6. Extortion - Sick
Australia's greatest hardcore band created an album in 2008 that sounds just like its title. Sick is an unrelenting hardcore record that shifts between breakneck tempos and nasty, sludgy passages at the drop of a hat. Combine this with an absolutely brutal vocal performance and a slew of amazing riffs, amongst which there is not a single dud, and you have perhaps the best hardcore release of the year.
5. Extra Life - Secular Works
I could talk all day about the beautiful yet awkward mish-mash of genres on display throughout Secular Works. Vocalist Charlie Looker gives one of the most impressive performances of the year; his tenor weaving its way through intense epics ("Blackmail Blues"), brooding Slint-like tracks ("I'll Burn"), cheerier, more upbeat tracks ("The Refrain") and even an acapella piece ("Bled White"). Backing him up is a band that is impressive across the board, but especially the bass and violin. Difficult to listen to and even more difficult to describe, Secular Works nonetheless sucks the listener in. Absolutely the most confounding and interesting album of 2008.
4. Grouper - Dragging a Dead Deer Up a Hill
Dragging a Dead Deer Up a Hill seems an inappropriate title for an album as pretty and understated as Liz Harris' third LP. Compared to her previous albums, Harris' songs are stripped back slightly to more organic, acoustic arrangements that allow her ethereal vocals to breathe. Added to this is an amazing production effort that causes the rich harmonies and the sparse instrumentation to mush together. Most importantly, Harris' songs feel intensely personal and sincere and her melodies, whether extremely catchy ("Heavy Water/I'd Rather Be Sleeping") or completely ethereal ("Stuck"), are among the most gorgeous written all year. In its subtlety, Dragging a Dead Deer Up a Hill is the most beautiful record of 2008.
3. Off Minor - Some Blood
Like the two Off Minor records that came before it, Some Blood is everything that a hardcore album should be; short, affecting, consistent and unafraid to try new things.
2. Have a Nice Life - Deathconsciousness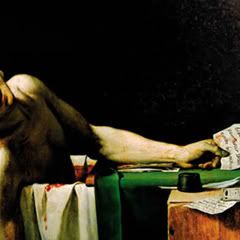 Deathconsciousness was undoubtedly the darkhorse of sputnik in 2008; it snuck up on us in January and just as our own Jared Dillon predicted, it was one of the biggest albums for the whole year. Deathconsciousness isn't perfect or even overly consistent, but when it hits, it hits harder than just about anything else released in this decade (see "Bloodhail", "The Big Gloom", "There Is No Food", "Earthmover"). Recorded in a home studio by two friends, Deathconsciousness represents the most moving and intimate pinnacle of what can be created with the most basic of tools.
1. Ohana - Dead Beat
It would be inaccurate to say that Dead Beat is a subtle album, but the jaw-dropping restraint that Ohana display through its 26 minutes means that not a single moment of it is wasted. Channelling the minimalism of bands like My Disco, Ohana masterfully use repetition in each song to emphasise climatic emotional moments. Take, for example, "Birth of the Clinic" which uses both its loudest and its softest moments to have vocalist Will Farrier deliver its one line. The song is entirely built around these two moments and their succinctness only makes them more powerful. Of course there are plenty of other amazing moments on the record and I'm almost tempted to take 500 words to describe them. I'll settle for saying this; Dead Beat is a perfect album that brilliantly combines its influences and utilises its musical ideas to create something flawless and powerful that nothing else this year has matched.
Honourable Mentions
Sun Kil Moon - April
Flying Lotus - Los Angeles
Fuck Buttons - Street Horrrsing
Ghostlimb - Bearing and Distance
Young Widows - Old Wounds
Share:
Facebook
Stumble
Digg
Del.icio.us